The Premier League is upon us, and we couldn't be more excited. But how does your Premier League club rank in terms of digital performance? We've enlisted our team of professionals to rank each club in the Premier League on their digital performance and the results are interesting, to say the least.
Premier League Predictions Vs the Premier League Digital Performance
According to The Week, Premier League predictions see Man City tipped to win the league once again with 87 points. Closely followed by Liverpool finishing with 76 points, and Chelsea placing third. From a digital performance perspective only, Man City would place third with a score of 41, Chelsea coming in at second with 43 points, but Liverpool playing the lead with a score of 58. Performance in digital terms typically means the speed of your website.
Mouth-watering fixtures lie ahead this weekend, one of which sees Manchester United against rivals Leeds. Leeds were standout performers last season but with United placing runners-up to Man City, the pressure is on. If we were to base our predictions for this game on our digital performance table, we'd see Manchester United coming out on top.
From an SEO and visibility perspective, Man Utd top the bar with an SEO ranking of 92 and a visibility score of 43 - compared to Leeds with an SEO ranking of 57 and a visibility score of 21. SEO is how well optimised a website is therefore likely to return an improvement in quality and quantity of website traffic, with visibility being the amount of organic traffic driven to the website. We can see here how a good SEO ranking can return higher visibility!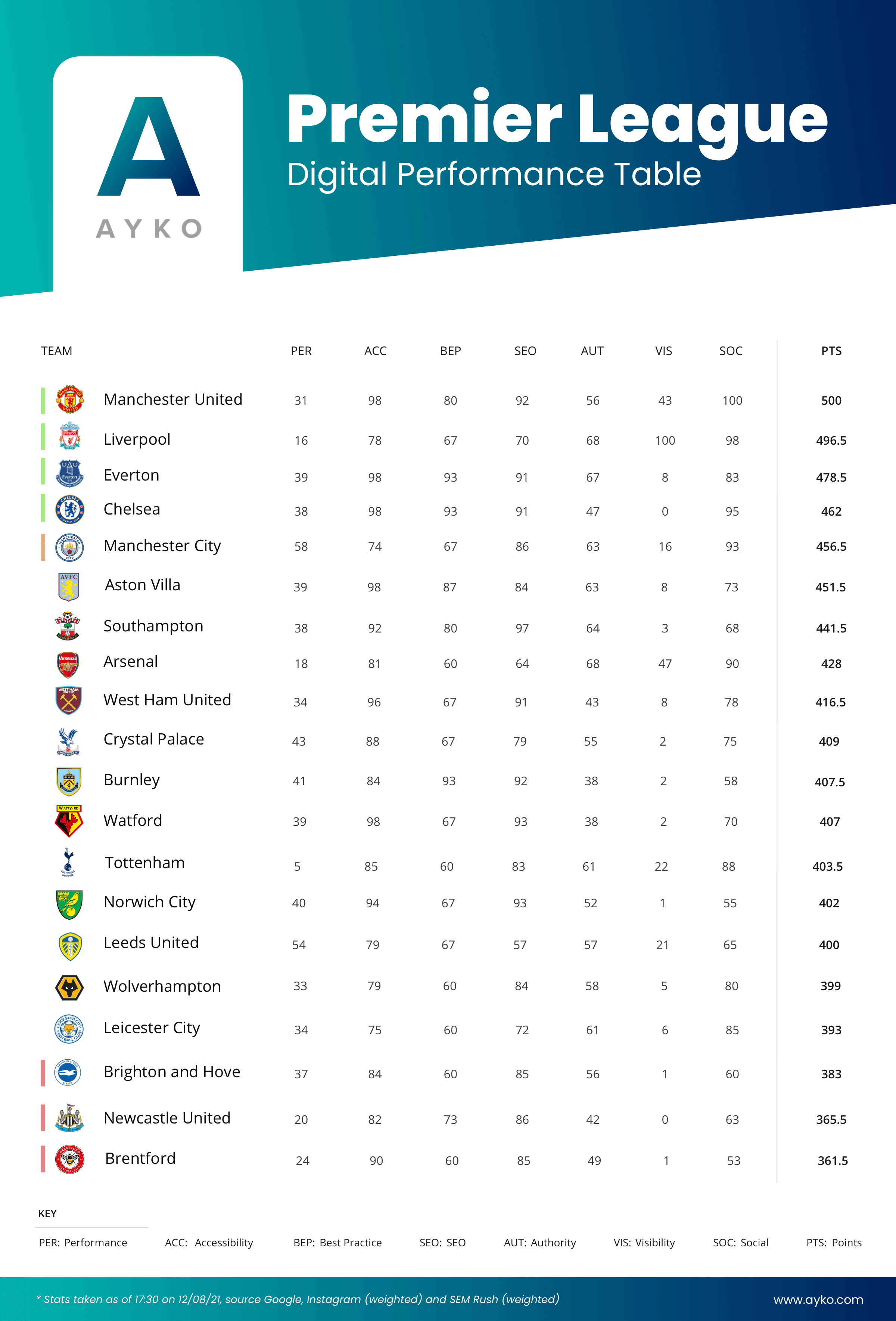 Head-to-Head
We've recently seen Jack Grealish seal a record £100m move to Man City from Aston Villa in a bid for the club to build on their three Premier League titles in four seasons. We've compared the social following of both clubs with their social ranking and once more Man City top the bar at 25.6 million Instagram followers, with a score of 93, and Aston Villa at 1.6 million, which is just 6.25% of Man City's entire following, giving them a score of 73.
Man City have also seen a recent offer of £100m rejected by Tottenham Hotspur for England captain Harry Kane, how do the two teams compare in digital performance? From a website accessibility perspective, Tottenham are our winners. Accessibility refers to the user experience of a website. Tottenham have an accessibility score of 85 whilst Man City score below at 74. Looking at the visibility index, once more Tottenham take the lead with 22, followed by 16 for Man-City.
Looking at our table, whilst Tottenham take the lead for accessibility and visibility, Man City are our winners, taking the lead on: Performance, Best Practices, SEO, Authority, Social Index, Points Per Market Value, Social, Social Rank, Market Value, and Market Value Index. Are you sure you don't want to make the move, Harry?
Who Wins the Digital Performance League?
The Digital Performance League Table concludes Liverpool F.C our winners with 5 points, closely followed by Manchester United with 4 points, and Man City placing third with 3 points!
Fact: If you combine the total followers of each Premier League club on Instagram all together you would get a total following of 177,314,000 which is just over half of the total followers for Cristiano Ronaldo alone, standing at 326,000,000… yes, we did the maths! *Disclaimer, this doesn't consider the duplicate followers for more than one club in the league…